Eureka Ironworks, Inc.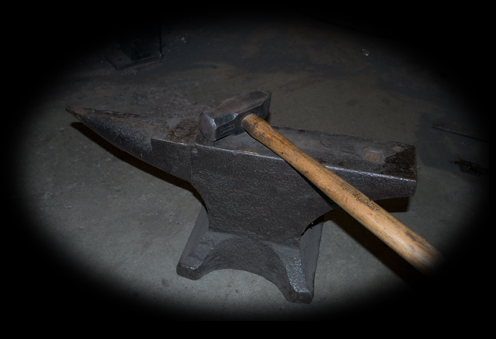 Original Iron Designs by David Cunningham

Eureka Springs, Arkansas 479-253-1242
Eureka Ironworks, a custom forge and fabrication shop, specializes in unique, hand-forged, functional iron artwork for home, garden, and commercial spaces. With more than 60 years of combined experience in the industry, we have the skills to provide the quality, service, and original designs that will help you define your space.

If you need a one-of-a-kind entry gate, railing, range hood, light fixture, or fire screen, look no further than Eureka Ironworks. Our line of hand forged, hand riveted products are the perfect accents for Lodge, Craftsman, Rustic, and Old-World styles.

Eureka Ironworks combines the centuries old techniques of traditional blacksmithing modern equipment and methods to create masterpieces of iron decor. Using 25 to 196 lb power hammers and 6 to 40 ton hydraulic presses, we shape solid bars up to 4" in diameter into components for use in projects both large and small.
| | | |
| --- | --- | --- |
| | | |
| | 2 minute video of leaf forging process. | |
Home Twig Railing More Twig Railing Ornamental Railing Fireplace Kitchen
Gates Fences Furnishings Lighting Miscellaneous Projects Work in Progress
In Stock Items for Sale Samples to Aid Design Components for the Trade
Copyright © 2004-2017 Eureka Ironworks, Inc. All Rights Reserved.
Eureka Springs, Arkansas · 479-253-1242