Eureka Ironworks, Inc.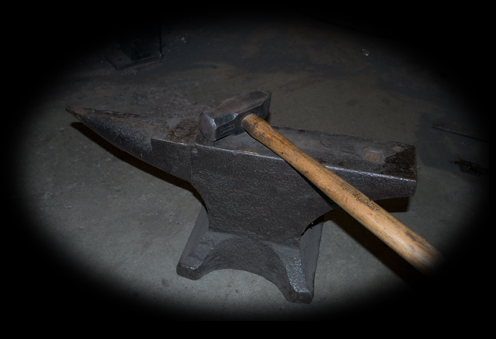 Original Iron Designs by David Cunningham

Eureka Springs, Arkansas david@eurekaironworks.com

Eureka Ironworks, a custom forge and fabrication shop, specializes in unique, functional iron artwork for home, garden, and commercial spaces. With more than 30 years of experience in the industry, we have the skills to provide the quality, service, and original designs that will help you define your space.

If you need a one-of-a-kind entry gate, railing, range hood, light fixture, or fire screen, look no further than Eureka Ironworks. Our line of hand forged, hand riveted products are the perfect accents for Lodge, Craftsman, Rustic, and Old-World styles. We have recently begun forging replicas of antlers for use as door pulls and latches, and as accent pieces in our forged twig railings.

| | | |
| --- | --- | --- |
| | | |
| | 2 minute video of leaf forging process. | |
Forged garden
gate with deer
head surrounded
by vines and tree
trunk posts.

Whitetail deer garden gate

The addition of forged accents to smooth plate can transform the ordinary into the extraordinary, as in our line of forged truss plates. Forged steel grilles are a perfect finishing touch to a rustic lodge style home.


| | | |
| --- | --- | --- |
| | This railing design combines realistic branches, twigs, hammered and veined leaves, a three-step chemical patina and clear-coat finish to bring the outdoors in. | |
| | | Interior railing - "Autumn in the Ozarks" |

We provide design and fabrication services, and can ship products for installation by others, or perform the installation ourselves. Please contact us for more detailed information, or to request a quotation for your project.
Perfect for a lake house,
cabin in the woods, or any
rustic interior.

Forged fireplace doors with tempered glass
Forged steel and hammered
copper are riveted together to perfectly accent the commercial style range in this kitchen. This hood features a variable speed fan and dimmable, low voltage halogen lighting.

Copper and iron range hood
Home Current Featured Project Project Location Map Twig Railing
More Twig Railing Ornamental Railing Fences Gates Fireplace
Lighting Kitchen Miscellaneous Projects Work in Progress
Copyright © 2004-2011 Eureka Ironworks, Inc. All Rights Reserved.
Eureka Springs, Arkansas · 479-253-1242